International Cooperation with Foreign Universities and Networks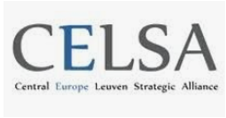 CELSA was founded in April 2016 by 7 old and famous universities in 4 innovative European cities:
Budapest (Hungary)
Leuven (Belgium)
LJubljana (Slovenia)
Prague (Czech Republic)
The Alliance aims at promoting collaboration between its members, to exchange practice at both policy and operational level, and together to find solutions for the major problems Europe is facing.
The CELSA members' mission is to educate Europe's youngsters, to perform the best research in many scientific disciplines, and to reach out to society and economy with its talents and its state of the art research results.
CELSA intends to jointly organize training courses, exchange practice in common issues such as peer-reviewing, education evaluation, research assessments, open science, knowledge transfer, and in particular setup collaborative projects for research programs like Horizon2020, and education programs like Erasmus+.
In 2017 the University of Tartu (Estonia) joined the CELSA-network, expanding the Network to the North.

CENTRAL (Central European Network for Teaching and Research in Academic Liaison) is a university-based Central European network. Founded in 2014 on the initiative of Humboldt-Universität zu Berlin, the network supports multilateral collaboration and exchange in the areas of research, promotion of young researchers, teaching and administration. With CENTRAL, Humboldt-Universität together with its partners – the Universities of Vienna and Warsaw, Charles University as well as ELTE Budapest – is giving new impetus to Central Europe as an area of collaboration and increasing its visibility as a scientific region.

The 4EU+ European University Alliance was founded in 2018. The Alliance brings together six comprehensive, research-intensive, public universities from four regions of Europe to strengthen the European vision of deepened cooperation and mutual enrichment by developing a new quality of cooperation in teaching, education, research and administration, leading to the creation of a truly integrated European University System.