Living in Prague
Based on QS Best Student Cities ranking, Prague belongs among the world's top 50 cities for students.
You will find plenty of resources about living in Prague on the web, as there is a large international community in Prague. Here we give a summary of the basic information relevant to you.
How to get to Prague – coming by air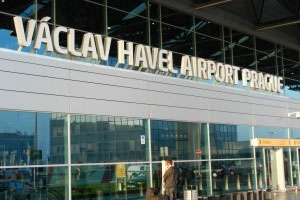 Prague has a modern and spacious international airport located approximately 17 km (c. 10 miles) northwest of the city center. The airport is named Václav Havel Airport Prague in honor of the first president of the Czech Republic. It handles around 250 flights a day to more than 100 destinations around the world. Some 50 passenger airlines operate at the airport and more than 11 million passengers pass through it every year. Direct flight destinations from Václav Havel Airport Prague include London, Paris, Frankfurt, New York, Seoul, and Dubai, to name but a few.
Visa and Long-Term Residence Permit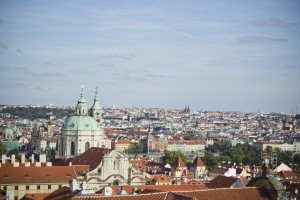 Note: This text is for informational purposes only and does not, and is not intended to, replace the legal text of the law. The residence of foreign nationals in the Czech Republic is governed by Act no. 326/199 on the Residence of Aliens in the Territory of the Czech Republic.
Citizens of the European Union and citizens of Iceland, Lichtenstein, Norway or Switzerland do not need a visa in order to visit or stay in the Czech Republic. However, they are obliged to report the place of their stay to the appropriate Foreign Police Department within 30 days of entering the territory if the intended duration of their stay exceeds 30 days. (If you reside in a Charles University dormitory, this obligation will be fulfilled by the dormitory office.)
Citizens of other countries ("third countries") need a visa or a residence permit for their stay. This visa/permit also allows its holder to travel within the Schengen area (https://www.schengenvisainfo.com/schengen-visa-countries-list/).
International students arriving to study at the Faculty of Mathematics and Physics of Charles University may apply for one of the following:
Long-term visa (over 90 days) for the purpose of studies.
Long-term residence permit for the purpose of studies.
Where to apply: You must apply outside of the Czech Republic for a visa or long-term residence permit (first-time applicants). This usually means in your home country at a Czech embassy or consulate. For a list of missions to the Czech Republic and other useful information on entry and residence, see the site of the Ministry of Foreign Affairs of the Czech Republic, https://www.mzv.cz/jnp/en/information_for_aliens/index.html.
Note that to collect your visa you will need to submit a proof of Comprehensive Health Insurance at the embassy/consulate. See the following section for details.
Timing: From the time you apply for a visa/residence permit, the procedure usually takes 60 days. As there may be a waiting time for submitting an application or the process might be delayed due to Covid-19 pandemic restrictions, we advise applying for your visa as soon as possible after receiving your acceptance letter from the university. For further details about the procedure, we recommend the following links:
Long-term visa details:
https://www.mvcr.cz/mvcren/article/a-visa-for-a-stay-of-over-90-days-long-term.aspx
(choose Purpose "studies")
Long-term residence permit details:
https://www.mvcr.cz/mvcren/article/third-country-nationals-long-term-residence.aspx
(choose Purpose "studies")
What is the difference between a "visa" and a "residence permit"?
There is no significant difference between these two types of legal stay. Generally, students are advised, if they are applying for the first time, or if they plan to study for one year only, to apply for a long-term visa for the purpose of studies, and for the following year(s) apply for a long-term residence permit (which can be done from the territory of the Czech Republic once you have stayed there your first year). However, both ways are possible! To help you choose which way to go, here are some of the practical differences:
Before arrival: The official processing time is 60 days for both visa and residence permit; however, students have more often experienced delays in obtaining a residence permit (probably because granting a residence permit involves a more complex administrative procedure).
After arrival: Students with a visa (code D/VC) living in Charles University dormitories are registered at the Foreign Police Department by the dormitory office and do not have to go to Foreign Police or Ministry of Interior (MOI) in person.
Students obtaining a residence permit are in fact first issued with a short-term visa for the purpose of collecting the permit (code D/VR) and must make an appointment and register within three working days at MOI. At this registration, biometric data are collected. The student then must pay a second visit to MOI to pick up the long-term residence card. Note that from your first visit to MOI it takes 3 to 6 weeks to receive this card and until then you are unable to travel out and back in the country (as the visa for the purpose of collecting the permit is usually only "one entry" visa).
Prolongation: A visa is for a maximum of one year and cannot be prolonged. Nevertheless, students are entitled to follow with an application for a long-term residence permit on the territory of the Czech Republic rather than applying from outside the country. A residence permit is also given for the duration of one year and can be prolonged. The administrative procedure and required documentation is similar for either method. However, if you have the visa and continue your stay by applying for the residence permit you must place the application in person, whereas application for prolongation of the residence permit may be also done by mail (regular registered letter, not by email).
Before departure: Residence permit holders must return their long-term residence card to the MOI office before departure.
Should you need more information on the visa process, please contact the Czech Embassy or Consulate in your country. For general questions, you can also turn to the Student Wellbeing Advisor at the Faculty of Mathematics and Physics, Zuzana Biskupová, at biskupova@ufal.mff.cuni.cz.
Health Insurance and Medical Care
Citizens of the European Union with a European Health Insurance Card (EHIC) are entitled to necessary and urgent care. For additional care, they may have to pay or arrange for commercial insurance for foreigners.
Citizens of other countries: The Foreign Nationals Residence Act stipulates the obligation for foreign nationals entering the territory (with the intention of staying more than 90 days) to have travel insurance covering comprehensive health care and this insurance may be taken out with Pojišťovna VZP, a.s. only: https://cizinci.pvzp.cz/
This obligation does not apply to foreign nationals covered by Czech public health insurance, or if their health insurance is paid for on the basis of an international agreement (such as Erasmus programmes) or if they hold a valid EHIC or GHIC health insurance card.
Medical Care in the Czech Republic is generally easily accessible. You will receive information from your particular insurance company on contractual medical centres and assistance service telephone numbers. After arriving in the Czech Republic, you will also receive a "Student Orientation Handbook" from the Student Affairs Department that includes a list of medical centres and their contact details.
Be prepared that you may have to pay for medical treatment first and then claim it through the insurance company afterwards. Read the insurance contract carefully and its instructions on how to proceed with a claim. Note: Most insurance contracts do not cover psychological help; should this be important to you, ask about this specifically. Students of Charles University have access to free psychological counselling (allow for a waiting time for an appointment).
Accommodation and Campus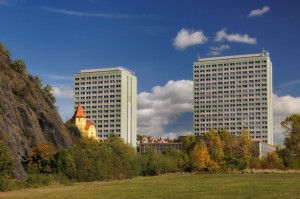 We offer our students accommodation in a dormitory. Monthly rent ranges from 3750 CZK to 7000 CZK in 2022 (that is approx. 150 – 278 EUR) depending on the quality and type of room.
Reservation of accommodation
If you would like to stay in a Charles University (CU) dormitory, after you receive your acceptance letter inform your Student Advisor that you would like to book a room in a dormitory and the advisor will make the reservation for you. You will be given details for paying a deposit (reservations cannot be made without paying a deposit). Note: New students cannot choose their dormitory but are assigned one. Currently, most of our students stay in the dormitory "Kolej 17. listopadu" in Troja.
Alternatively, you can rent a flat or share a flat with other students. This type of accommodation is arranged by students individually. To look for a flat you might try https://www.bezrealitky.com/ or https://www.expats.cz/praguerealestate.
Housing assistants
In some CU dormitories you can ask for help from a housing assistant. The assistant can help you with practical issues after your arrival or help with communication in case of language barriers. You can contact the assistant in your dormitory before your arrival and make an appointment to meet, or just stay in touch over email.
Campus
Charles University is spread over dozens of different locations in Prague – there is no single campus area. Typically, then, accommodation buildings are located in other parts of Prague than where lectures and classes are held. But no need to worry about travelling around the city as the public transportation system is very efficient. The premises of the Faculty of Mathematics and Physics are at these locations.
For international students classes take place mainly in Troja, walking distance from the Dormitory 17. listopadu, and in Malá Strana (in the very heart of the historical part of Prague), about half an hour by public transport from the Dormitory 17. listopadu. International students will also use the services of the Student Affairs Department located in Karlov.
Changing accommodation
Some students stay in university dormitory accommodation for the first year of their studies and later arrange for individual accommodation. Please note that if you change your address, you must report the change to the relevant authorities. Holders of a student visa report the change to the Foreign Police (Olšanská 2, Prague 3); holders of a long-term residence permit report the change to the Ministry of Interior (Hládkov 682/9, Prague 6). Any change of address must also be reported to the Student Affairs Department and the relevant details updated in the Student Information System.
Food
Student Canteens
There is a network of student canteens (refectories) – in Czech called "MENZA" – where students are entitled to discounts for meals. The average price for a meal is 80–110 CZK (4–5 EUR) for a starter and main course. As a Charles University student, you can use any canteen around the city. The menzas "Právnická" and "Arnošta z Pardubic" are the two nearest to the computer science building in Malá Strana. There is also a menza in Troja.
Cooking for oneself
If you stay in a CU dormitory, you can cook your own meals in the small kitchen corners that are part of the accommodation facility.
Going to a restaurant or having your meal delivered
Many restaurants offer daily lunch menus and take-away meals for reasonable prices. Average lunch menu prices in the centre of the city: Soup: 55–70 CZK, small meal 120–180 CZK, larger meal 180–250 CZK. Coffee: 45–65 CZK. Soft drink: 30–50 CZK (1 EUR = approx. 25 CZK).
You can also use a delivery service (such as Dáme jídlo, Wolt) where you can choose from a variety of restaurants and get your lunch delivered, usually within an hour.
And as for type of the food, every type of international cuisine is offered in Prague – from Italian to Japanese or Mexican. And Czech, of course.
Special dietary needs
In a menza, vegetarian and also some gluten-free meals are offered, and many restaurants have vegetarian, vegan or gluten-free menus. You will find gluten-free or vegan products in supermarkets (such as Billa or Albert) and in specialized stores. Popular ones are Country Life (a chain of specialized shops, restaurants and e-shop), Delmart shops and bistro with a wider offering of bio and vegetarian products, and the chain of popular vegetarian restaurants Dhaba Beas.
Transportation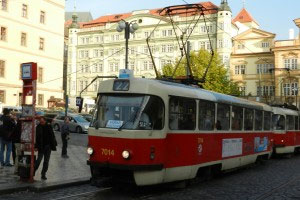 Prague's Public transport system is efficient, clean and runs on time (at least most of the time) and you can use it to get all around the city for a reasonable price. The public transport system includes trams (covering the centre of the city and also some suburban areas), a wide network of bus lines (some in the centre but mainly serving suburban areas and residential areas on the outskirts of Prague), three metro lines, one funicular line, and during the summer months also ferries across the Vltava. And just for fun you can take the historical tram line in an old-fashioned tram.
Transport from the airport
If you come to Prague by air, you will arrive at Václav Havel airport (Letiště Václava Havla). Check on the airport's web site information on how to get from the airport. You can also watch a video by Honest Guide with many practical tips on travel from the airport to the centre of Prague.
If you book your accommodation at a Charles University dormitory, prior to your arrival date you will receive details on how to get from the airport to your dormitory.
Tickets and fares
As a CU student (until the age of 26) you can get a discount on public transport. Until you receive your CU student card, which allows you to get a discounted long-term student ticket, you will need to buy standard fare short-term tickets: https://www.dpp.cz/en/fares/fare-pricelist#1-1
You need to validate your ticket upon entering the transport network (yellow boxes inside of trams and buses and by metro entrances, where you insert the ticket to have it stamped). Once you have a long-term ticket, you do not have to validate it each time you travel; just carry your ticket with you at all times in case there is a ticket check.
Ticket checks: There are occasional ticket checks on the metro, trams and buses when you are asked to present your ticket. Failure to produce a valid ticket incurs a fine of up to 800 CZK. More information can be found here (in Czech): https://pidlitacka.cz/faq/kontrola
If you are over 26 years of age and are not entitled to a student discount, it is still very convenient to have a long-term ticket: one annual ticket, in Czech "roční kupón", is 3650 CZK (current price in 2022), which is only 10 CZK per day! You can also buy a quarterly or monthly ticket.
How to get a long-term ticket:
Tickets can be bought in a paper form (a paper card with photograph and long-term ticket, in Czech "kupón") and you can buy these in any of the pre-sale windows found at almost every metro station – see https://www.dpp.cz/en/fares/list-of-points-of-sales. You will need your passport, a photograph, and, if you want a discount, also your CU student (ISIC) card. For the card itself you pay 60 CZK + plus the price of the season ticket (monthly, quarterly or annual). For up-to-date rates see the website https://pid.cz/en/travelling-around-prague/?tab=2. If you lose the card and/or ticket, you can get a duplicate (60 CZK is charged), but only once. If you lose it again, you need to purchase a new card.
A second option is to obtain an electronic card, known as a "Litacka". See: https://www.pidlitacka.cz/home. If you lose your "Litacka" card, you can transfer the "charge" on it to another card (you just pay a fee for the new "litacka" card).
A third option is to use your contactless bank card if you register it as an "identifikator" at the PID office, which can be done through their e-shop. However, there is a lack of information in English about this procedure, so if you want to go this way or have other questions, you can visit one of the INFO CENTRES: https://www.dpp.cz/kontakt/infocentra
Cycling in Prague
There are also cycle routes in Prague. Practical information to help you in planning your bicycle trips are given on the website Praha Cyklistická (in Czech, containing a link to the routefinder "Najdi cestu" Prahou na kole). The way from the student dormitory in Troja, where most of our students live, to the university building in Malá Strana takes about 30 minutes. (The IMPAKT building in Troja where most first-year undergraduate lectures take place is just a few minutes' walk from the Troja dormitory.)
Travelling out of Prague
In the Czech Republic there are many interesting places worth visiting, so if you decide to take a trip out of Prague, depending on the destination you may depart from one of these stations:
Prague Main Railway Station (Praha, Hlavní nádraží)
Masarykovo Station (Praha, Masarykovo nádraží)
Smíchovské Station (Praha, Smíchovské nádraží)
Florenc Bus station (Autobusové nádraží Praha–Florenc); international bus connections start from here
Safety in the city
Prague is a safe city if you practice common sense (for example, don't go alone down dark alleys or walk around unlit parks at night). The same goes for the rest of the country. However, it is good to be a bit wary of:
Pickpockets
You should keep an eye on your belongings, especially on public transport, in the city centre area, and in tourist restaurants. Best to keep your bags close by you, with your wallet placed safe inside. Watch out for pickpockets also at railway stations (especially the Main Railway Station) where you may also be approached by beggars (if you wish to give some change, it is safe to do so, but do not take out your wallet out).
Changing money
Never change money on the street and try to avoid changing money at any exchange office. They often have higher rates and hidden charges so you end up getting a lot less than you would at a bank or ATM.
Taxis
There are many online taxi apps. Use these rather than picking up a taxi on the street – unless you are with someone who speaks Czech and knows the city you risk being taken for a ride with fares many times over what you should have paid.
Traffic rules
There may be differences from your home country in how to behave in city traffic to be safe. A few tips for Prague:
Crossing the street – use designed pedestrian crossings (if you are caught by the City Police crossing the street elsewhere, you may be even fined for doing so). If there are traffic lights, respect them.
Never cross the street when a tram is approaching even if there is a pedestrian crossing! The tram has the right of way and has quite a long breaking distance. Several accidents happen each year due to people assessing the situation wrongly.
Be extra careful when crossing tram lines – the second most frequent cause of accidents.
Climate
Moderate with four seasons. In winter, you can get snow and freezing weather as well as quite pleasant days with temperatures above zero, in summer it can be very warm, up to 35 °C (95 °F). The average temperature in January, the coldest winter month, is -5 °C (23 °F), and in July, the warmest summer month, around +23 °C (73 °F).
Student Club
ESN CU Prague (formerly Charles University International Club) is a student club which organises various social, cultural and sport events for both international and Czech students, and generally helps international students to handle their stay in Prague. In particular, it organizes Orientation Weeks at the beginning of every semester and regular social and cultural activities, as well as trips during the whole year. In general, it helps the international students with their first steps in Prague