Office 365
All employees and students of our university can use services available within Office 365.
To log in to Office 365, please use
https://office365.cuni.cz/
, where you will be redirected to the university authentication service (CAS), where you log in with your university account (as for SIS, etc.). Also, you can use
https://portal.office.com/
. Here, the Microsoft login page is shown, where to the login field fill any email address with the suffix cuni.cz (e.g., a@cuni.cz) and again you will be forwarded to CAS The Microsoft login page can be also shown, if you access Office 365 documents via direct links.
More detailed description of particular services of Office 365
Email
As a part of Office 365, there is an email account with 50 GB capacity (the Outlook service). The email account is created automatically, when a person commence to be a student/employee of the univerzity. The address of the account is UKCO@o365.cuni.cz and login_name@o365.cuni.cz. For outgoing mails, the From address is UKCO@o365.cuni.cz. These addresses cannot be changed
Warning: On many places within Office 365, there is shown the string UKCO@cuni.cz. It is not an email address. It is a unique identifier of the user within Office 365.
If you do not plan to use the email account, it is advisable to set automated forwarding to another email address. A guide to set forwarding:
Click to the icon of the gearwheel in the top right corner.
In the show panel, click to the Mail link (down).
In the newly opened left panel, click to the Mail → Account → Forwarding.
In the window, check the Start forwarding box and fill in the address.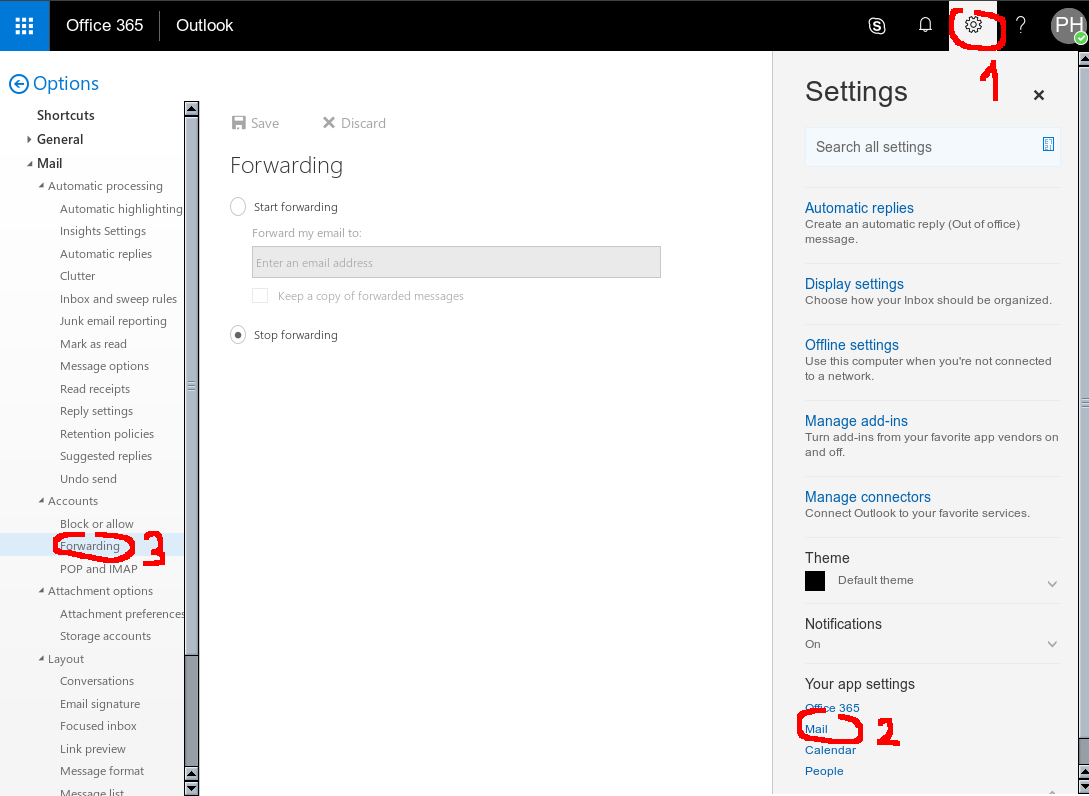 Teams
Teams allow for easy team collaboration. It is possible to use it (not only) for distance education. It allows for creating groups (teams), sharing documents, chating and also making videoconferences. A client application is available for most of the commonly used systems (Windows, Linux, Android, iOS) and also it can be used without any client from a browser.